We love WordPress! Why? Because it's a user-friendly system and the possibilities are endless! In this blog, we give you 10 pro-tips for when you want to create a WordPress website. We at B11 Media swear by it!
Table of contents | In this article
Reduce images
Use as few plugins as possible
Get inspired before creating your WordPress website!
Use an SEO plugin for your WordPress website
1. Reduce images
We kick off this WordPress tips off with pictures. How enthusiastic you were, with your images. Your entire website became a fantastic collage of everything you wanted to show. The downside? Your website has become as slow as a snail. This is probably because, in all your enthusiasm, you have uploaded your very best high-resolution images of several MB each. Looks great, of course, but your website visitors have to load them piece by piece when they want to view those images.
How we do?
If you have photos taken or have taken them yourself, they are often post-edited. What is immediately useful to do in that? Make them web-ready. The most commonly used format for this is JPEG. Keep to a maximum resolution of 1080×1920. For headers, you can use a larger format, but for all your other content, this will suffice.
For the Photoshop connoisseurs
Do you use Adobe PhotoShop? Then we have a tip for you! Go to file -> export -> save for web. A new window will open: choose JPEG as output. Below it you will see a quality slider (1-100), choose a number between 40-60 here. This makes the image smaller. When compressing, the software bundles an entire group of pixels (the smallest unit of the image) into one or a few new ones. So it results in a loss of quality, but this is almost imperceptible to the naked eye.
So why do we have to choose between 40-60? Not every image is originally of very high quality. So you may be trying to optimise an image that is already compressed, this will make the quality so low that you will see it. That's why you have to see for yourself what is best and how far you can go: The lower the number, the higher the compression, so try to go as low as possible without making your image look weird.
Don't have Adobe PhotoShop? Then fortunately, there is light at the end of the tunnel and there are handy plugins that can help you resize your images on your WordPress website.
WP Smush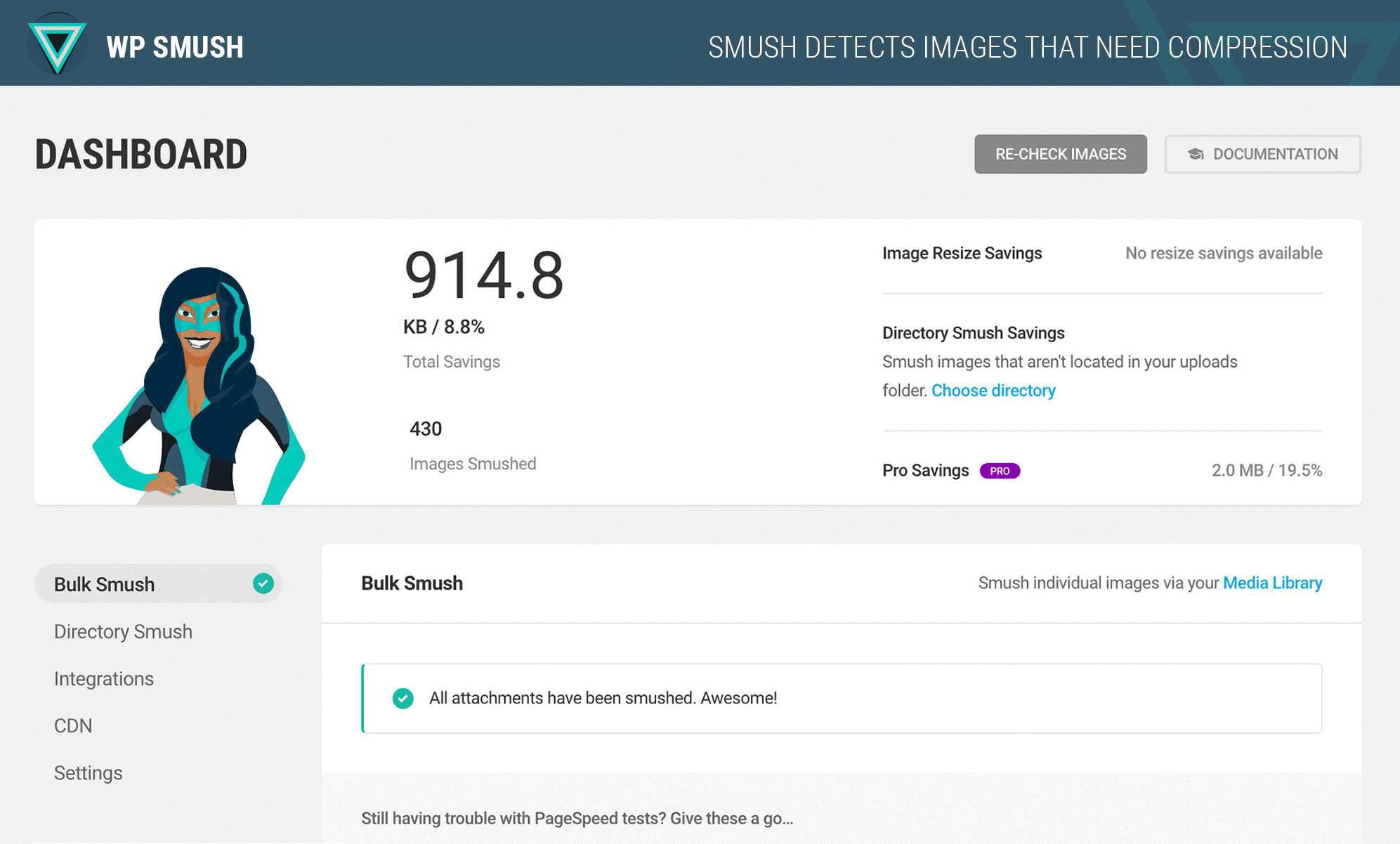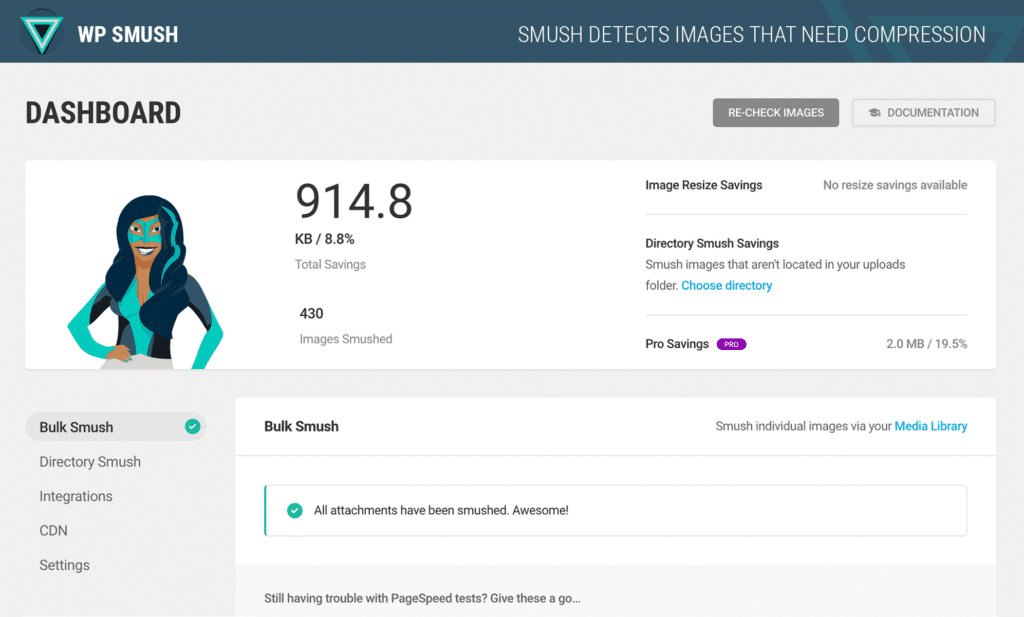 A wonderful plugin for this is WP Smush. We at B11 Media actually think WP smush is one of the best plugins to compress your images. The best part? WP Smush is free to download from the WordPress catalogue. And if you have money to spare and need to get rid of it: there is also a Premium version with even more features.
With the plugin, you can compress your photos one by one, but you can also set it up so that as soon as you upload your newly shot photo (of that ultimate Volkswagen van you came across on your holiday in Italy) (of 10 mb) (and thus very slow), it instantly compresses it. Super easy!
And back to that Premium version, why spend your hard-earned pennies on that? The Premium version also compresses individual folders of plugins and themes within WordPress, resulting in a bizarrely fast website. Cool isn't it?
Extra tip: compress your images first with TinyPNG (https://tinypng.com/), then they will be packed even tighter!
2. Use as few plugins as possible
Plugins, plugins and plugins! It all seems top-notch and - let's put this first - plugins are super valuable! However, plugins can also damage your website, resulting in a site full of bugs, delays and misery. With every plugin, ask yourself: is it necessary or can I arrange this differently? WordPress by itself is quite a nice system when it comes to size. Adding endless plugins only makes things less stable and slower.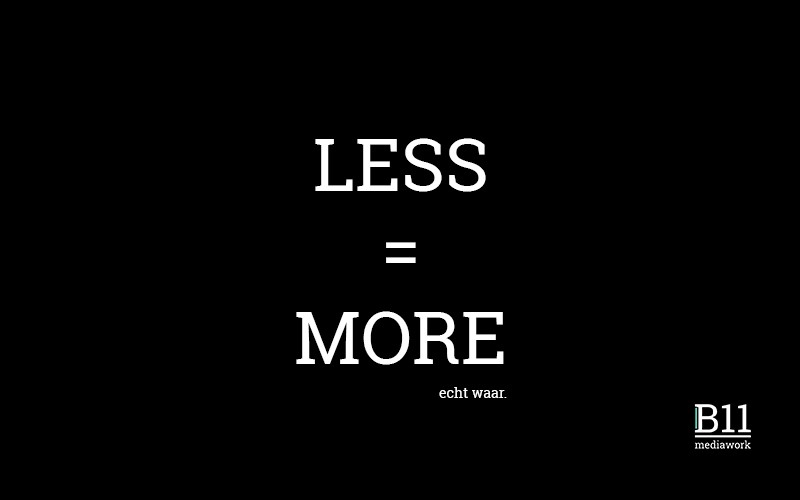 In addition, it is super important to keep plugins up to date! If you don't do this, it is very easy for hackers to break into your website, many people underestimate this by not updating websites for years. So suppose you do go for plugins keep your website up to date!
Want us to do that? Check it out here!
3. Get inspired before creating your WordPress website!
Like we always have something up our sleeve? OK, we admit it. There is a ton of experience here in the office, but we also need inspiration. Tip from Flip: look at as many websites as possible and find something! When we have an intake with a client, one of the questions we ask is: what do you like, what suits you and just as important: what do you really dislike three times?
What gems are on here! This website is all about online awards. Check out the pros and get inspired on this website, no doubt you will come across brands you know. Awwwards.com shows who the reviewers are and shows their ratings. They rate website on Design, Usability, Creativity, Content and Mobile. In fact, you could soon start rating your own website on those points too!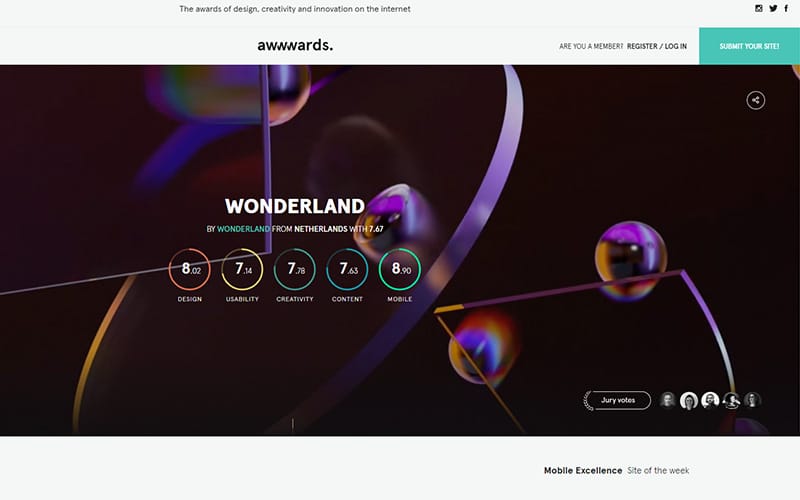 Pinterest
Pinterest is also a very good channel for finding inspiration. If you just type in 'website', you will find an awful lot of fun, inspiring images you can use. Browse Pinterest and use it to your advantage. That creative tiger is inside you, you just need to chase it out of its safe place.
Extra tip: create a mood board! Screenshot, cut, paste the hell out of it until you have put together the ultimate mood board for your new WordPress website.
4. Use an SEO plugin for your WordPress website
No, not a Senseo. Although you could probably use it when setting up your SEO (stands for Search Single Optimisation). Because we admit: SEO is a lot of work. Nonetheless, we are not averse to tools that make our job a little easier and are happy to give you some tips to make your WordPress website search engine friendly. Hi Google (smile)!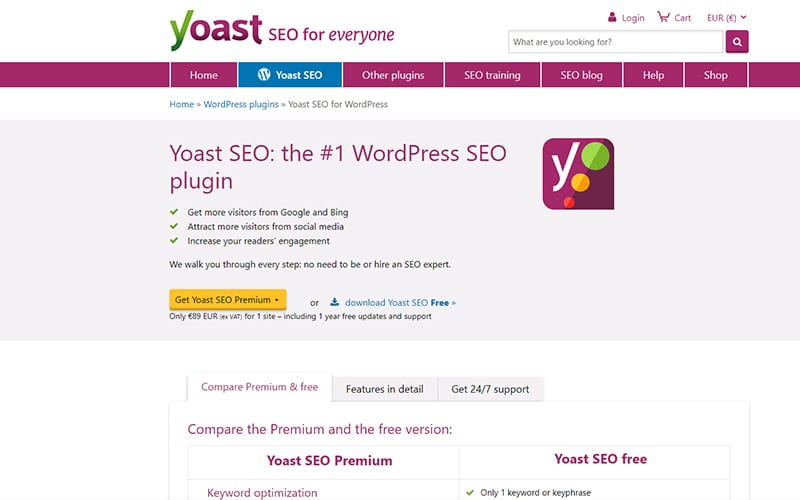 Yoast SEO
Yoast says it itself: I am the best WordPress SEO plugin. OK then, a bit full of itself. But we admit... that's okay. After all, it is by far our recommendation when it comes to SEO optimisation of your WordPress website. Yoast gives you insights per page on how to improve it so that Google assigns it more relevance on certain search terms. Because that is the core of SEO: making sure you are found!
Yoast has a free version and a Premium version. You will go a long way for your WordPress website with the free version, but the Premium version is also 'totally worth it'. Check out their website to read about the differences. www.yoast.com
And the nicest thing they are just in Wijchen (near Nijmegen): one of the biggest SEO plugins in the world just comes from our region, holy moly. Keep it up Yoast!
5. Name images correctly
To continue on the SEO bit: images! Google is incredibly smart, perhaps the smartest self-learning supercomputer around. What Google just can't do very well yet? Looking at images and telling you what it is. That's where you have to help him (her, it?) a bit. We mainly distinguish between Title Tags and Alt Tags. Title Tags the visitor to your website does not actually see
Alt Tags
The Alt tags (alternative tags) is an item added to an image in HTML. The main purpose of this tag is that it lets search engines understand what the image is about. Super valuable, therefore! In addition, this tag helps when the image cannot be displayed.
Title tags
The title is an item that is also added to the HTML code of your WordPress website. This is a title visible to the visitor that appears when you hover your mouse over your image, for example.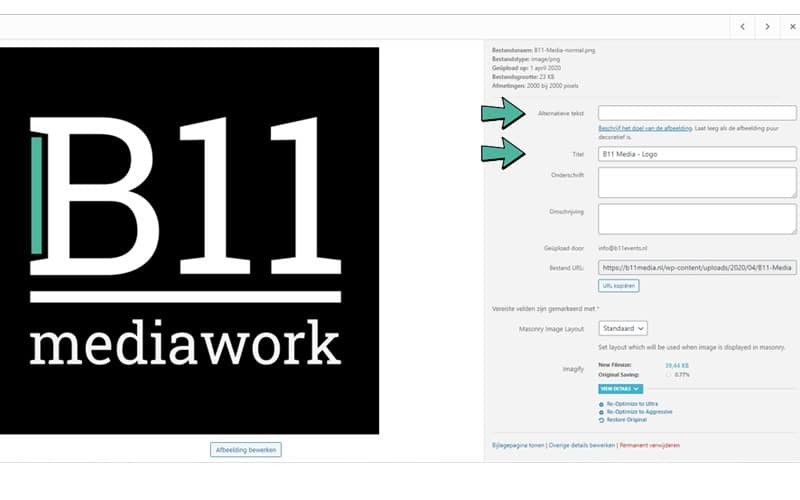 Tip: So use these tags to help the search engines understand what your image is about. Don't go slamming search terms around: use them smartly and when relevant.
6. Improve your WordPress website navigation
You probably know the drill: you come to a website, you can't find what you are looking for. This could be because your head is off or you decided in a drunken stupor to look up that holiday home from when you were on holiday with your parents in 2013. End result: frustration. The latter is incidental, your website visitors should actually be able to find what they are looking for as easily as possible. Navigation on your website is important and also a highly underrated part.
So how can you improve your website navigation? Here are some practical tips:
Use recognisable titles
Create clear categories and sub-categories
Make all elements clickable
Make it easy to move from one section to another
Use Mega Menus (This is a very good Mega Menu plugin!)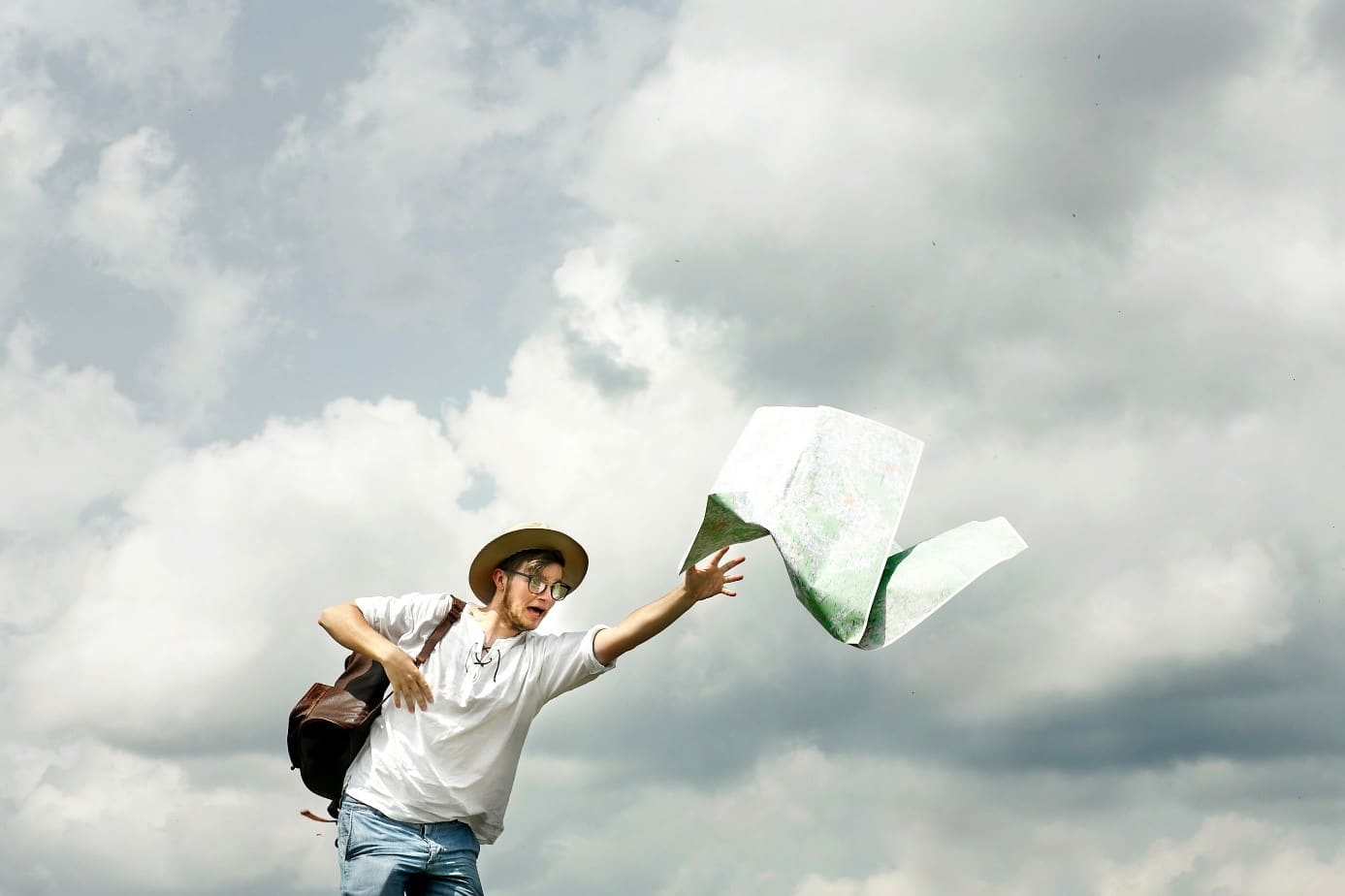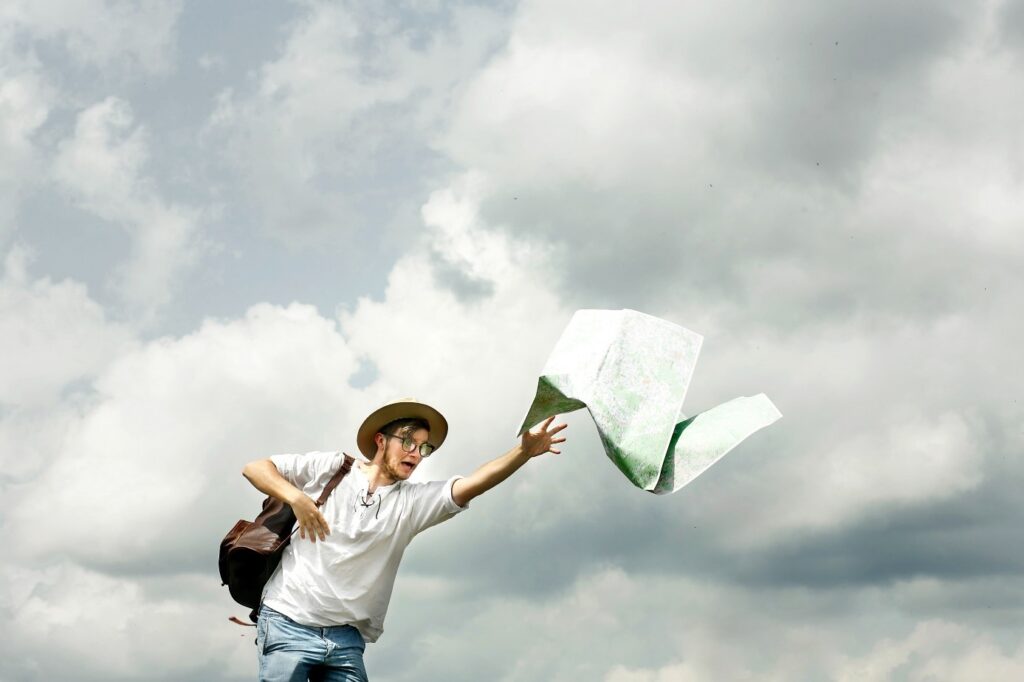 Extra tip: sit in your visitor's chair and ask those around you what they think! Are you selling a product? Consider how a visitor should go through your website to eventually buy a product from you. If someone is on the page where you tell them about your product, they might want to add the product to their shopping basket right away. If you don't offer the visitor this option through a button or other clickable link, you will find that visitors are more likely to leave.
7. Use a WordPress theme that works for you
There are many themes available for WordPress. This will save you a lot of time and allow you to quickly set up a professional website. Most importantly, you should first make a list of things your theme needs to satisfy. Don't just start looking for things that look nice: themes are usually paid for and what you see is of course the best sales pitch. We recommend that you first thoroughly get on paper what you want on your WordPress website and what you expect from a WordPress theme.
Furthermore, we can give you the following tips when looking for a suitable WordPress theme:
Choose a theme that is SEO-friendly
Make sure your theme is 'Responsive'. This means it is optimised for the device it is displayed on (desktop, tablet or phone)
Go for a light and fast theme
Choose a theme that looks professional
Check if your theme works well in different browsers (e.g. Chrome, Firefox and Safari)
Check whether the theme works with the plugins you might want to use (this is really not always the case!).
Pay attention to the price: there is quite a difference in supply and corresponding prices. More expensive is not always better
Pro tip: Divi theme
A theme with a front-end builder in it. Imagine you are on a web page and you can press a piece of text and edit it, drag an image in and add a header. This can all be done with a front-end builder; very user-friendly and, with a lot of online tutorials, mastered within a few weeks. Divi also has a few pre-build websites that you can import with one click. Per year, this licence costs €65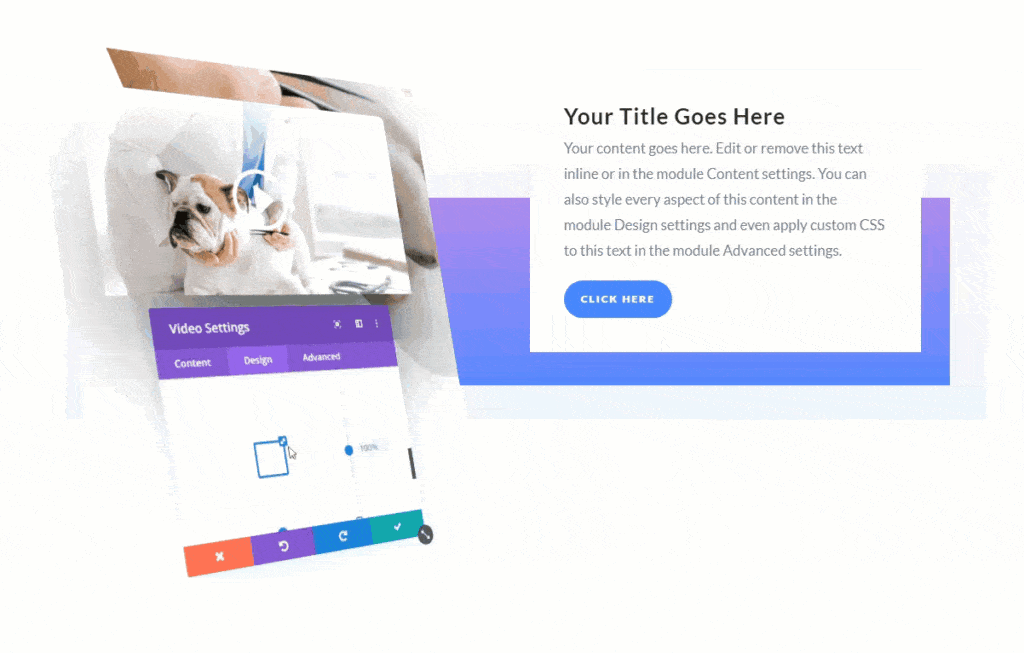 But wait? Why have another website built? These themes and drag-and-drop builders really are a breakthrough, but there are limits to that. Because you can drag and drop everything so easily, a lot of CSS and HTML code is used to load your website. This code is converted into that beautiful website you built via Divi, but with larger websites, a lot of lines of code have to be loaded, which can result in longer loading times. Make up your mind whether to build your website yourself or outsource it (in the latter case, choose us and let us tell you why).
WordPress.org
The WordPress website also has a huge library of themes that you can move forward with. For most use cases, these templates provide the right foundation for your new killer website.
Tip: use ThemeCheck to check if you are using a secure theme and don't use themes that score low. The higher the score, the more secure (and better coded) the theme is!
8. Adjust your permalinks
Short but powerful tip: adjust your permalinks! Whenever you write a new blog or create a new page, WordPress automatically creates a new permalink. This can sometimes be a long-winded story which creates a link so long you could tattoo the earth with it three times in Comic Sans MS, font size 12. Of course, we shouldn't have that!
Permalinks look as follows:
nl/category/nogen category
The part after .nl you can and will want to edit after reading this article. This part is also called the Slug and is automatically generated by WordPress after creating your article. Nice isn't it? Yes, but it often misses the mark completely. Rather adjust your permalink to something that is immediately obvious. Did you write an article about why bananas are crooked and your page is called: 'A detailed explanation of why bananas are crooked'? Then you don't want your slug:
en/category/bananas/anexhaustive-explanationonwhybananasarecrisp
This could be shorter (MAND!). Make of it:
en/whyarebananas crooked or
nl/blog/whyarebananascurved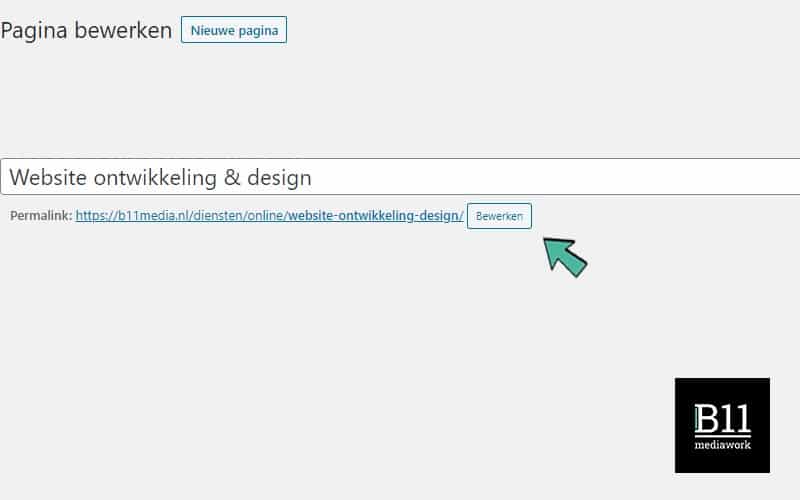 Customising an Permalink is done in a flash and boosts your website's navigation, as well as your SEO score. Nice!
9. Use social sharing buttons
SHARE! Your content is obviously mega relevant, the world needs to see this. So make it easy for people to share your pages and integrate Social Share buttons on your WordPress website. Especially for blogs, this is super relevant. Also give people space to respond to it with Facebook Comments, for example. You will see that if you have written nice articles that are relevant to visitors, they will want to share them.
WPBeginner.com has written a relevant blog on how to implement Facebook Comments in your WordPress website.
https://www.wpbeginner.com/plugins/how-to-install-and-setup-facebook-comments-in-wordpress/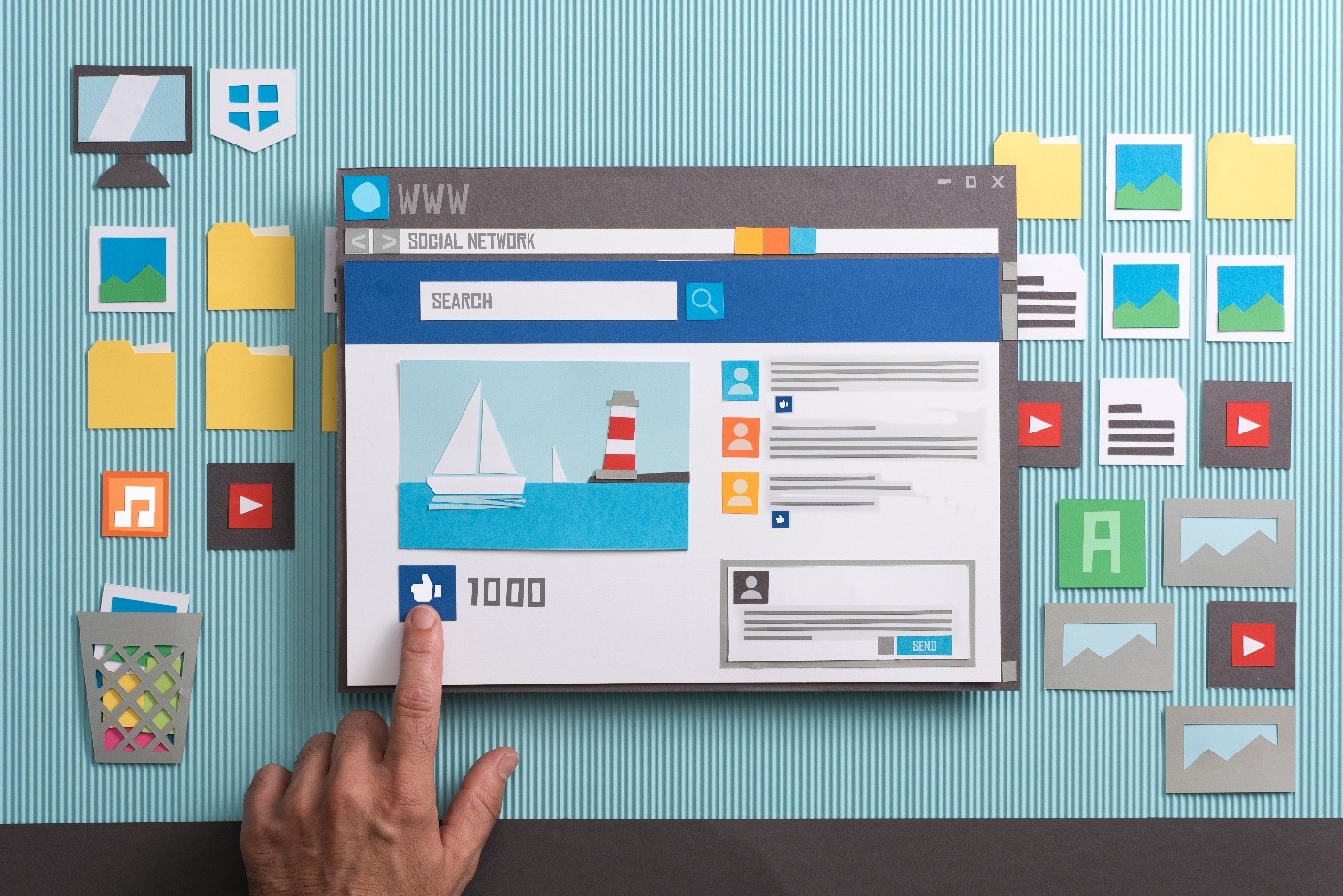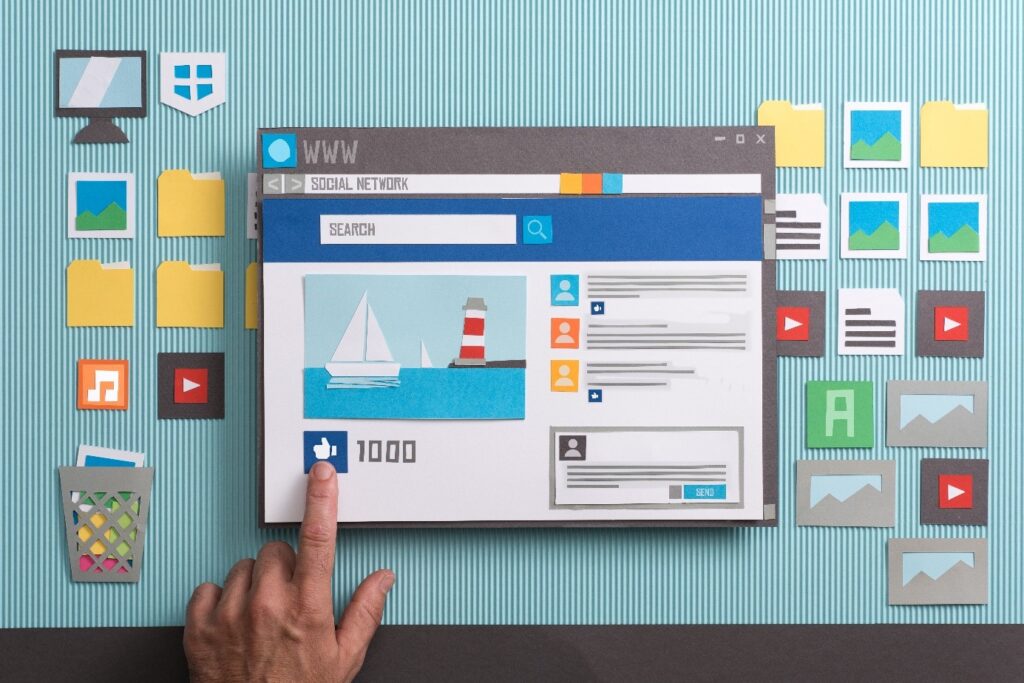 Customising an Permalink is done in a flash and boosts your website's navigation, as well as your SEO score. Nice!
10. Bonus: WhatsApp sharing!
With 1.6 trillion users, WhatsApp is one of the most widely used messaging platforms in the world. What we still see far too little of is Whatsapp Post sharing. Like Social Share Buttons, an integration that allows people to easily share a page via WhatsApp is incredibly valuable! 'How to do that'? Fortunately, even here a few Einsteins have come along to help you with this. A great plugin for this is Add to Any. It is fully customisable to WhatsApp and super easy to use. Check out their website: https://www.addtoany.com/